From today I will start a series of recommendation for places to visit in Vietnam month by month. The first will be September.
If you are planning to visit Vietnam in September but are still wondering where to visit and what the weather is like in that area, I hope this article will answer your concerns and give you more options to have a great experience in Vietnam.
Weather in Vietnam in September
If you want to know about Vietnam's weather by region, you can check it out here: Weather in Vietnam and when to visit. I write this article because although Vietnam is not a very large country, the weather between regions has many obvious differences.
If you are going to Vietnam in September, don't worry too much because there won't be too much difference in climate between regions in September.
Is September weather suitable for travel? The answer is yes. This is the period of change of seasons, the weather is cool and pleasant. You will feel comfortable and ready for your travels in Vietnam. The best thing is that you can relax on the quiet beaches and enjoy your vacation at a lower cost than traveling in the peak months. So, do not hesitate any longer and start planning your trip to Vietnam in September today.
Places to visit in Vietnam
I don't know how many days you will spend in Vietnam. Normally, tourists coming to Vietnam will land in Hanoi or Ho Chi Minh City. Hanoi is in the North and Ho Chi Minh City is in the South. Therefore, I will list the places in order from north to south so that you can easily choose tourist destinations for convenient transportation and suitable for your plan.
By the way, I also have an article about Transportation guide for traveling to Vietnam. I hope this article can help.
1. Places to visit in Northern Vietnam in September
1.1 Ha Giang – the Northernmost of Vietnam
Traveling to Ha Giang in September, you will be immersed in the fresh, cool air typical of the mountainous region, admire the beauty of terraced rice fields that turn bright yellow, take a scenic cruise on the Nho Que river, experience the spectacular Ma Pi Leng – one of the four great peaks of Vietnam…
If you choose Ha Giang as one of your destinations, you should spend about 4-5 days.
Everything about Ha Giang loop tour has been compiled here: things to do in Ha Giang, where to stay, how beautiful Ha Giang is… I hope all I wrote can help.
1.2. Sapa with ripe golden terraced fields
Sa Pa is a famous tourist destination for a long time and has not cooled down yet. There is no need to describe too much about the most popular tourist coordinates of Vietnam with this cross-country and international tourist, because every season you travel to Sapa also has its own beauty and interesting things.
In addition to the golden color on the terraced fields, hundreds of flowers blooming in the city, Sapa is still modern with the SunWorld Fansipan Legend cable car and then "makes me miss" with lam rice, grilled chicken, sour sturgeon… Starting from September Sapa flower season begins to change color, making the natural picture even more impressive.
1.3. Moc Chau with the green tea hills
Moc Chau is one of the September tourist destinations that you definitely cannot miss. Every season of Moc Chau is beautiful but in September, coming here, you can also feel the joyful atmosphere of Independence Day, romantic love markets, or tea hills in the green and cool season… On Independence Day, you will be able to participate in fun competitions such as tug of war, spread dance, … with special activities, culture and art.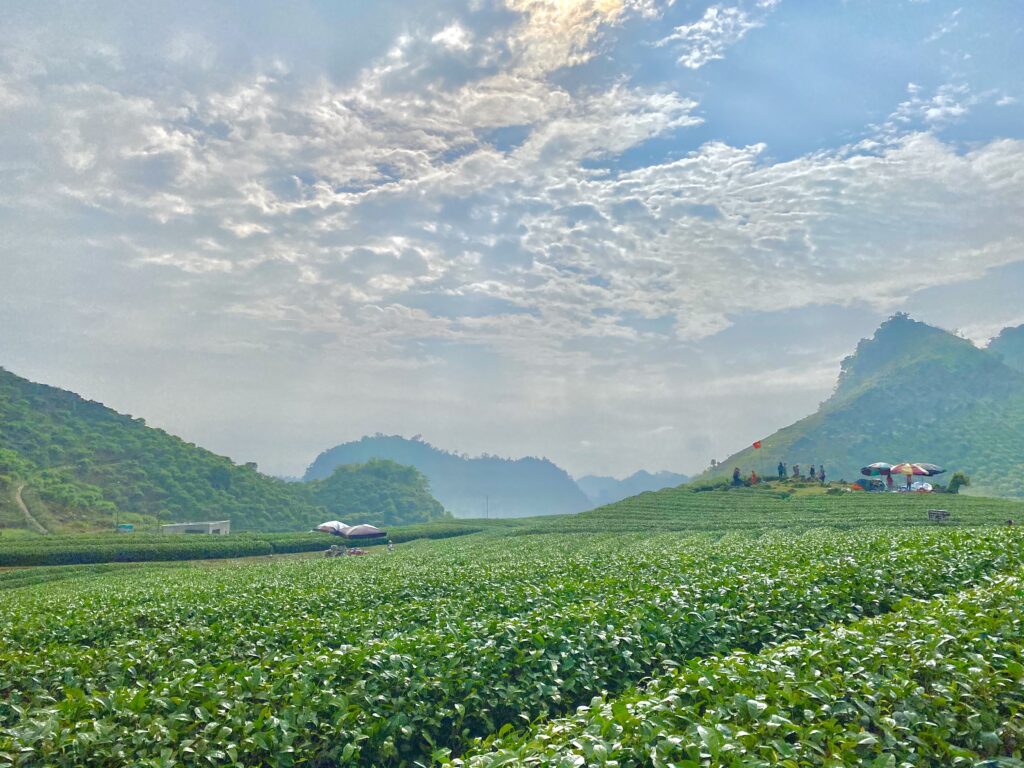 1.4. Ninh Binh
If you have ever been fascinated by the beautiful scenes in the movie Kong, you will definitely want to carry your backpack to explore Ninh Binh one day.
The first time you set foot in Ninh Binh, you will experience every level of exciting emotions when sitting on the boat, enjoying the endless beauty of the charming water, watching the fish splashing under the clear water and Exploring caves with mysterious beauty.
Famous destinations in Ninh Binh that you cannot miss such as Hoa Lu Ancient Capital, Tam Coc – Bich Dong, Trang An Tourist Area, Thung Nham Bird Park…
One of the suitable places to watch rice in Ninh Binh is Tam Coc – Bich Dong. You will not want to miss the experience of riding a boat down the Ngo Dong River and enjoying the charming water, as beautiful as a watercolor painting adorned with the yellow color of the vast rice fields on both sides of the river.
2. Places to visit in Central Vietnam in September
2.1. Lang Co Bay – Hue
Referring to the Central Coastal, tourism cannot ignore Lang Co Bay. Lang Co Bay converges rivers, mountains, sea and lagoon.
There are dozens of experiences that you definitely have to try when traveling to Lang Co Bay, including watching the sunrise on the beach of Canh Duong, watching the sunset of Tam Giang, fishing at Lap An lagoon, exploring Bach Ma mountain, swimming the Lang Beach She, experienced culture in craft villages, …
However, September is also the stormy season. So if you want come here, you should carefully consider the weather forecast.
2.2. Da Nang
Da Nang beaches are considered as the scenes of the sky because of the poetic and poetic beauty. Da Nang tourism you can check-in at My Khe beach, Non Nuoc Beach, Bai Rang, Xuan Thieu Beach, North My An Beach, … to see the different features of each beach in Thanh Thanh This street.
If you really want to travel to Da Nang in September, please pay attention to the weather a little. In September, Da Nang started the rains. But Da Nang's rain quickly stopped and did not last. You should plan about 1, 2 weeks in advance for the best preparation.
2.3. Hoi An
Cua Dai beach, An Bang beach, Ha My beach, … are beautiful beaches, captivating many tourists in Hoi An. The beach attracts visitors by the smooth white sand, stretching endlessly, surrounded by green coconut groves shiny and clear blue sea.
In Hoi An travel journey in September, take time to visit a series of tourist destinations in Hoi An such as Hoi An Ancient Town, My Son Sanctuary, Cu Lao Cham, Thanh Ha Pottery Village, Bay Mau Coconut Forest, … Especially, do not miss the amusement park combined with extremely unique cultural experience – Vinwonders Nam Hoi An.
People often combine the trip to Da Nang with Hoi An tourism. Hoi An in the rainy season is more sad, more quiet and also much more beautiful. You should prepare in your hand an umbrella to walk in Hoi An in September. There will be sudden rains and stop.
2.4. Quy Nhon – Phu Yen
If you do not know where to visit in September, why don't you visit Quy Nhon? This is the most beautiful time of the year for you to travel to Quy Nhơn. Coming to Quy Nhon, you can enjoy checking-in "virtual life" with pristine, peaceful scenery as beautiful as paradise, experience a series of interesting beach games, scuba diving and admire the world.
Phu Yen – a yellow flower land on the green grass is a September suggestion. This land owns a coastline of nearly 200km long with scenes such as Bai Xep, Bai Mon, Hon Nua, Vung Ro Bay, …, or rapids with stones with stone layers of the class full of art are molded.
In particular, one of the extremely worthwhile experiences when traveling to Phu Yen is the earliest welcoming dawn throughout the territory of Vietnam from Mui Dai Lanh (Mui Dien).
3. Places to visit in Southern Vietnam in September
3.1. Vung Tau – a hot travel destination
Vung Tau is a city in Ba Ria – Vung Tau province, Southeast region, Vietnam. Possessing many beautiful beaches and fully invested infrastructure, Vung Tau is a famous tourist destination in the South. In particular, people in Saigon and neighboring provinces often choose Vung Tau as a place to enjoy the weekend after a working week.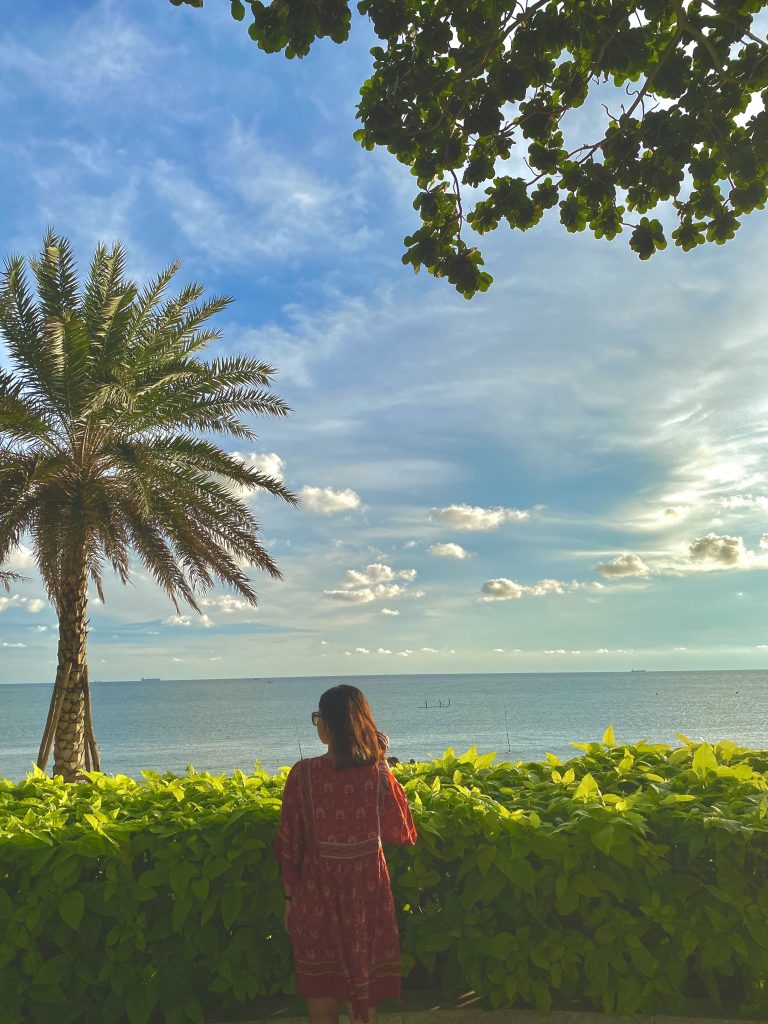 3.2. Phu Quoc
Phu Quoc is the largest island of Vietnam, in Kien Giang province of the Mekong Delta.
Not only is it known for its cool, clear blue beaches, wild and mysterious islands, but there are also many attractions that your kids will surely love: Vinpearl Land Phu Quoc – where children can experience many indoor and outdoor games. Besides, there is Vinpearl Safari Phu Quoc – where children will discover the animal world in the most vivid and authentic way.
I haven't traveled in the South much, so I don't have much to write about. I will definitely update more in the future.
Wish you all have a very happy trip!