Vung Tau is a city in Ba Ria – Vung Tau province, Southeast region, Vietnam. Possessing many beautiful beaches and fully invested infrastructure, Vung Tau is a famous tourist destination in the South. In particular, people in Saigon and neighboring provinces often choose Vung Tau as a place to enjoy the weekend after a working week. I would like to introduce about where to stay for your vacation in Vung Tau beaches.
Geographical location of Vung Tau
Vung Tau includes a large part of the territory located on the peninsula of the same name, along with Long Son island and Go Gang island located in the south of Ba Ria – Vung Tau province. The city is located 95 km southeast of Ho Chi Minh City by road and 80 km as the crow flies, and is an important gateway of the Southeast region to the sea.
Weather in Vung Tau beaches
Vung Tau belongs to the tropical monsoon climate zone, influenced by the ocean. The average annual rainfall is low (about 1,271mm). There are two distinct seasons in Vung Tau: the rainy season from May to October, and the dry season from November to April of the following year.
The average annual temperature is 27 degrees Celsius. The lowest month is about 24.8 degrees Celsius and the highest month is about 28.6 degrees Celsius.
Where to stay to enjoy Vung Tau beaches
If you are preparing 4 days and three nights for your luxury vacation, below are some resorts suggestions of mine. These suggestions are based on what I experienced last week.
This is where I was last week. This resort is located right on the beach. With 2 unique subdivisions close to the sea and on the hill, Mercure Vung Tau is a meeting point not to be missed by check-in devotees. Mediterranean architecture with diverse colors in harmony with the natural light of the resort makes every place at the hotel so beautiful.
What I like about Mercure is that just stepping out on the balcony of the apartment is to feel the sea breeze. At night, just sitting on that balcony can count the stars in the sky, the feeling is almost like spending the night on the sea.
The hotel's swimming pool is also located right next to the beach. In addition, there are also many views that can take beautiful photos.
Mercure serves a buffet breakfast. I don't eat lunch here. As for dinner, the menu is also quite diverse from oriental dishes to western dishes. However, the time to make the food is a bit long: about 30-45 minutes for each dish from the time of ordering.
Price: from 2,000,000 VND – 5,000,000 VND/night.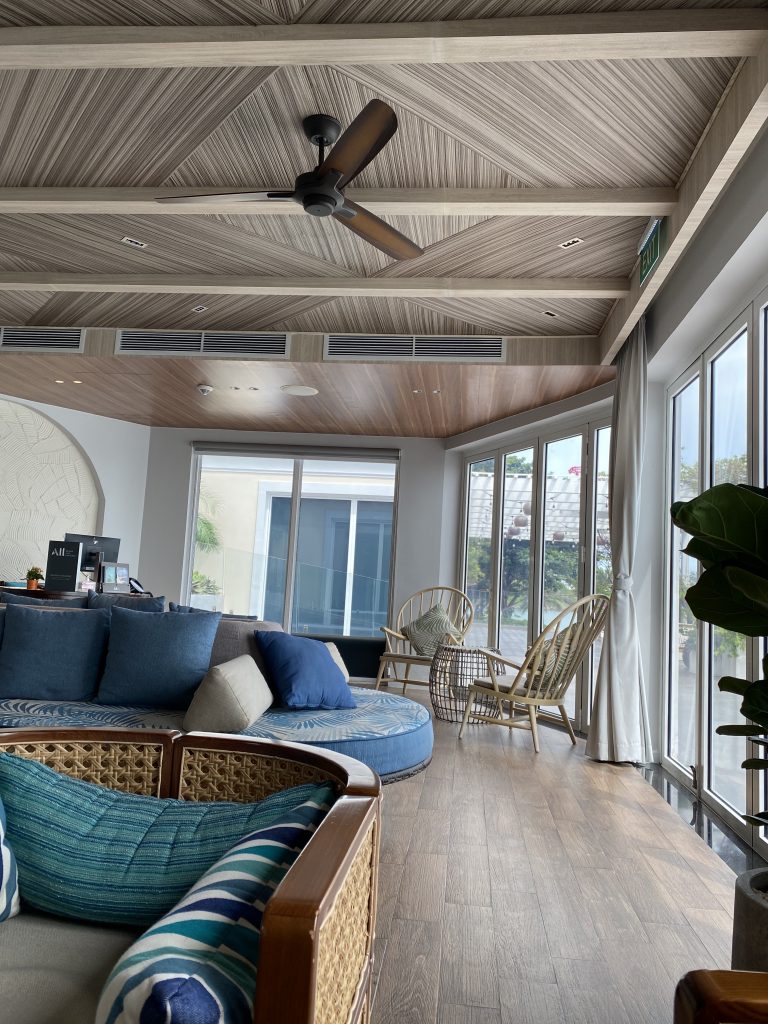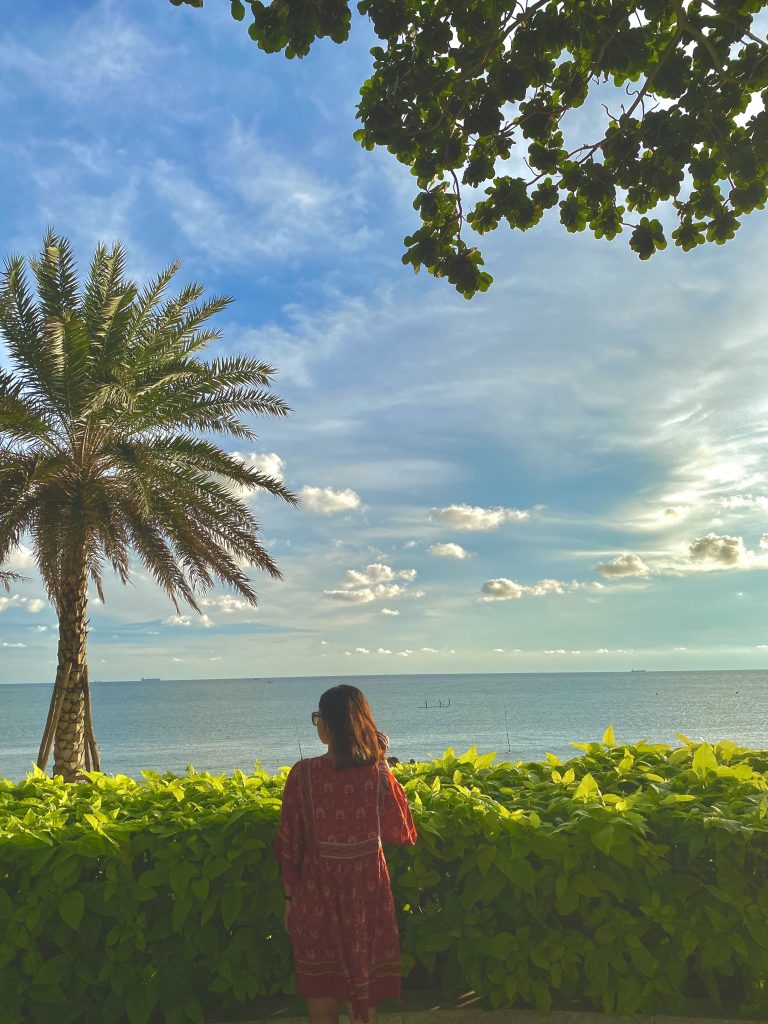 Last week I attended a friend's wedding here. Everything was really great.
Melia Ho Tram Beach Resort is located in Ho Tram – a place in Xuyen Moc district, Ba Ria – Vung Tau province. This is the coast located between two communes Binh Chau and Long Hai town. Ho Tram is 120km from Ho Chi Minh City, about 30km from Vung Tau beach. This is one of the most luxurious beach resorts in Vietnam.
It has modern resort suites and luxury villas surrounded by more than 4,000 different types of trees, more than 10,000 square meters of lake. You can experience unique local cuisine and international cuisine at the resort's four different restaurants.
In terms of landscape, this place is really both large and beautiful. The resort is surrounded by the natural beauty of the East Sea, the romantic Ray River and lush mangroves. In the early morning, you can also ride a bicycle in the resort's premises. If you stay at the villa, you can also swim in the sea or swim in the pool behind the villa by opening the back door. And if you stay in the apartment, you can walk, call the reception to ask for a tram to take you anywhere you want or you can pedal to the beach. In general, this place is really a resort paradise.
My friend's wedding was held right at the back beach of her villa. The sound system, the decoration, and the party food were all great. The wedding at Melia Ho Tram Beach resort is a beautiful memory for me with my friends. You can consider this place if you want to have a wedding in one of the most beautiful Vung Tau beaches.
Price: from 2,000,000 VND – 5,000,000 VND/night.
If you've been to Vung Tau, don't forget to visit the hot springs in Binh Chau. This is the only place in the southern region that is gifted with a rare source of hot springs by nature.
Binh Chau tourist area attracts visitors by its large and small hot pools, which are transported day and night by streams of warm water from about a dozen open-air hot springs to the lake. The lake has a water temperature of 37 degrees Celsius to over 80 degrees Celsius, so it is warm all year round, and the faint smoke creates a magical scene like a fairy scene. Binh Chau Hot Spring is a warm hot spring consisting of 70 open-air fountains, with temperatures ranging from 37 to 82 degrees. According to some studies, the composition of Binh Chau hot spring is similar to other famous spring water in the world, can treat some skin or cardiovascular diseases… That is also the reason that the mineral hot springs Binh Chau is attracting more and more tourists.
Scientists believe that Binh Chau hot spring is a post-volcanic process. That is, when the volcano stops erupting, the "magmatic" furnaces continue to bring heat, gases and minerals to the surface to form a hot spring.
With the incentives given by nature, these hot springs have created many interesting activities for visitors to come here. You can take a dip under the dim, warm water to both relax your spirit and be good for your health right on a trip.
Another way that you can experience this pure hot mineral water besides bathing at the hot mineral pool is to soak your feet in the hot spring. This is also a very healthy and gentle activity that everyone can enjoy.
In addition, you can check with the heat of the natural hot water source that can ripen the eggs. This activity also brings enjoyment to all visitors here. With only 6,000 VND for an egg, you can soak them in hot water and wait for about 15 minutes, then see the results with a little salt and pepper.
Another specialty at Binh Chau tourist area is mineral mud. If you go to Vung Tau beaches, you can take a dip under the sand, then come to Binh Chau you will be soaked in mineral mud to clean toxins on your body. The sediments located deep in the hot mineral bed contain many rare essences from nature that will make your skin more beautiful after coming to Vung Tau.
This resort has 137 hotel rooms with a design that keeps the warmth and familiarity, making the whole family feel like returning to their own home and finding a real rest time together. Warm wood color and pure white color are the beginning of a quality holiday. The room is designed right next to the mineral bath, where you can soak in warm water up to 39 degrees Celsius with many minerals good for sleep, health, and musculoskeletal system.
Address: Highway 55, Binh Chau, Xuyen Moc, Ba Ria – Vung Tau Province
Entrance ticket price:
adults: 180,000 VND/weekend ticket – 240,000 VND/weekend ticket.
Children (from 1m – 1.3m): 140,000 VND/weekly ticket – 180,000 VND/weekend ticket.
Children under 1m: Free tickets.
Hotel price: about 3,000,000 VND/night.