I don't have much experience in solo travel. Almost every trips I have is with my family and friends. Have you ever wondered if Vietnam is a good country for traveling with kids or what you and your family can explore together about the culture, scenic spots and cuisine in Vietnam? Where to go for a family travel in order to be both meaningful and fun is the question of many people. However, finding a destination suitable for all family members is not easy. This article will be about the best destinations for family trip in Vietnam.
Why should we travel with family?
I am not asking this question for people who like to travel alone. Because I know that each style of travel has its own interesting things that if we don't do it, we will never know, whether traveling alone, traveling with friends or traveling with family.
There are places I've been to more than once. For example, Quy Nhon or Moc Chau, I have traveled there once and then determined to come back again with my family. And each time it is a great experience and I feel very happy.
I read somewhere that traveling with family is very important, it makes family members feel happier and creates positive mental effects for children. Perhaps the greatest legacy that every father and mother can leave to their children are happy memories. Happy memories are often created as the whole family explores new places and tries out new activities together. The world is the biggest and best classroom for family members to learn, play, and create great memories together.
Once you set foot in a new land, you will keep the memories of that land in your heart forever. This is true not only for adults but also for children. When you visit another country or anywhere new like traveling to Vietnam, you will discover new places, new cultures and new locals. With adults, we can easily see the difference between people and cultures of different lands, but children are often easier to get along with. That is why children often easily make friends with other children regardless of nationality or culture. Traveling with family is a great opportunity to see a larger world.
So now let's find the places to explore the culture, cuisine and every interesting things to do with family when traveling to Vietnam!
The attractive places to visit to have a great family trip in Vietnam
Usually when tourists come to Vietnam, the first place they come to is probably Hanoi, Da Nang or Ho Chi Minh City. Hanoi is in the North, Da Nang in the Central and Ho Chi Minh City in the South. Therefore, I will list the places in order from North to South so that you can easily visualize and choose the place which is suitable with your planned schedule.
The Northern Vietnam
Hanoi
If you are looking for a tourist destination for families with young children, Hanoi is a perfect suggestion. The capital of thousand year of civilization has many historical sites that you and your children can explore such as:
Hoan Kiem Lake which is known as where the King Le Loi returning the sword to the Golden Turtle God after beating the invader army of the Ming China in 1400s.
Van Mieu – Quoc Tu Giam – the Temple of the Literature University built in 1070.
Thang Long Tu Tran – the four most sacred temples in Hanoi. These are the four places to worship the four gods who protect the four east – west – south – north of Hanoi. Each god has its own story.
And more.
Coming to Hanoi, you will be able to have fun, visit traditional craft villages, the ancient villages, the ethnographic museum to understand more about the culture and beliefs of 54 ethnic groups of Vietnam.
Especially, I'm sure that you and your family will enjoy countless delicious dishes of the Capital such as: pho, bun cha, vermicelli with shrimp paste, vermicelli, Cha Ca La Vong… You can check more here:
Ninh Binh
The next tourist destination that I would like to introduce to you is Ninh Binh.
If your family wants to find a place with beautiful nature, peaceful villages and friendly people, Ninh Binh is an ideal place. This place is bestowed with beautiful landscapes by mother nature.
Coming to Ninh Binh is coming to Hoa Lu Ancient Capital, Trang An eco-tourism area, Bai Dinh Pagoda, Mua Cave, Thien Ha Cave, Phat Diem stone church, Cuc Phuong National Forest…
Regarding Ninh Binh cuisine, you and your family can enjoy famous delicious dishes such as: Mountain goat meat, Gia Vien shrimp paste, vermicelli with perch, Kim Son sprouted vermicelli, fish salad, eel vermicelli, burnt rice … just hearing about it is already exciting, right?
Sapa
Sapa is a tourist destination in the North that attracts tourists from all over the world.
This land attracts visitors by the poetic beauty of winding terraced fields, rolling hills, unique highland culture with colorful Love Market sessions, and kind and gentle people.
Coming here, in addition to admiring the beautiful scenery, you can also enjoy many strange and attractive Northwest specialties.
Ha Long
This is absolutely a suitable place for a family to travel together.
Traveling to Quang Ninh, you cannot help but visit Ha Long Bay which is one of the most beautiful beaches in Vietnam. The majestic natural scenery with hundreds of different large and small islands and green vegetation and clear sea water easily makes visitors "collapse".
Exploring Ha Long Bay, you will experience a lot of interesting activities such as climbing, exploring caves, kayaking and conquering the beautiful islands in the middle of Ha Long Bay.
Besides, you can also enjoy delicious culinary paradise with Quang Ninh squid rolls, surface vermicelli, sea sam… About Vietnamese sea food, you can also refer to this link: Vietnamese sea food dishes.
The Central Vietnam
Da Nang
Da Nang has Sun World Ba Na Hill – the destination for relaxing time with family. . It is a mountain resort of Da Nang Province in Vietnam with a 5 km-long cable car system which carries guests up to Ba Na's peak at 1487m above sea level. This place is introduced as a place for you to revel yourselves in the typical rotation of four seasons in a single day and numerous festivities, recreations and relaxation and cuisine. If you have ever been introduced about a golden bridge with two hands reaching out from the mountain to support the bridge, this is where that bridge is.
For more about Da Nang, here is what I wrote about Da Nang: Must-places to visit.
About cuisine of Da Nang, you can read here: Top 5 incredible Central Vietnamese food.
Hoi An
Hoi An is located in Quang Nam Province which is about 30km from Da Nang. This Old Town is the city's historic district. It is recognized as an exceptionally well-preserved example of a Southeast Asian trading port dating from the 15th to the 19th century. Its buildings and street plan reflects a blend of indigenous and foreign influences.
In Hoi An, you can enjoy cycling in Hoi An Ancient Town, drop lanterns in the evening on the river, visit old houses, explore Hoi An Cuisine such as Quang noodles, Cao Lau, Banh Mi…
Quy Nhon
Quy Nhon is a coastal city in Binh Dinh Province in central Vietnam, the hometown of our great and beloved king – Quang Trung (1753 – 1792). This place is popular as a peaceful land where is somehow quiet but extremely romantic and suitable for those who want a short trip to enjoy the fresh sea breeze and whispering waves in the weekend. And here below is my list of places to visit when traveling Quy Nhon of Vietnam.
If you and your family love the wilderness, romance and peace of the sea, Quy Nhon is the most suitable destination for a vacation.
Here is the places to visit when traveling to Quy Nhon.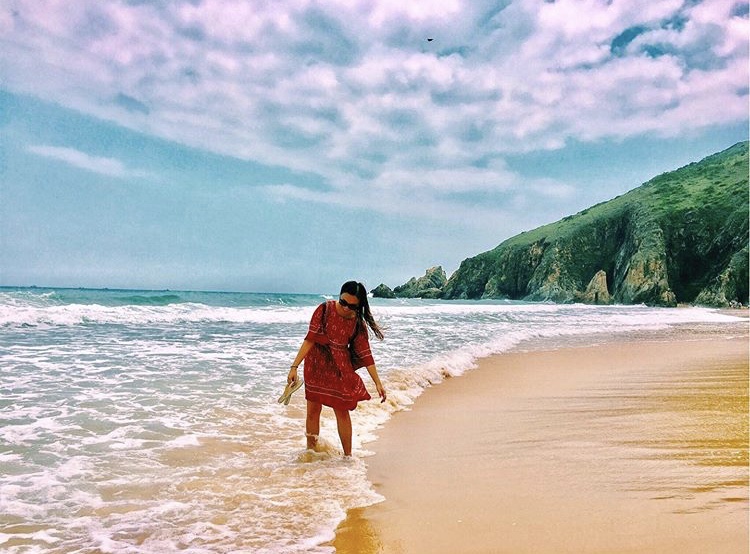 Nha Trang
Let's bring the children to the blue sea paradise – Nha Trang so that they have the opportunity to admire the poetic islands, immerse themselves in the green beaches, explore the ancient Cham Pa architecture and enjoy seafood.
Coming to Nha Trang, the whole family will be able to swim together, go canoe to explore the sea and islands, visit famous places such as Ponagar Tower, Long Son Pagoda, Tram Huong Tower, Bao Dai Palace, Institute of Oceanography… Especially, children will definitely love Vinpearl Land Nha Trang because there are countless games here, from indoor games, outdoor games, adventure games… Children will be able to visit the aquarium, watch water music performances, dolphin circus and enjoy seafood.
A trip to Nha Trang is enough to relieve stress, cool off the summer heat and bring the whole family closer together.
Da Lat
With a cool year-round climate, fresh air, Da Lat is the most reasonable vacation spot for your family. If you are worried because cold weather can affect your kid's health, don't worry! Because the climate here is not only cool, not too cold, except in winter, the weather is a bit colder, and in summer, the climate is great for the health of kids!
Coming to Da Lat, the children will visit the City flower garden, Mong Mo hill, Love valley, Da Lat's ghost forest inn, Cu Lan village, Cau Dat tea hill, Xuan Huong lake, Thien Phuc Duc hill, …
It will be great if the whole family organizes an overnight camping trip in the wild mountains of Da Lat so that the children can have the most authentic experience with nature, clouds, trees, flowers. Let's organize a BBQ party and sit and chat together, ẹnoy delicious food, review family memories in the chilly evening of Da Lat. It feels great, isn't it?
The Southern Vietnam
Phu Quoc
Phu Quoc is the largest island of Vietnam, in Kien Giang province of the Mekong Delta.
Not only is it known for its cool, clear blue beaches, wild and mysterious islands, but there are also many attractions that your kids will surely love: Vinpearl Land Phu Quoc – where children can experience many indoor and outdoor games. Besides, there is Vinpearl Safari Phu Quoc – where children will discover the animal world in the most vivid and authentic way.
Here is more information about Vinpearl Lan and Vinpearl Safari Phu Quoc.
The southwestern provinces of Vietnam
The West possesses a peaceful landscape with rivers, interlaced canals, alluvial gardens, fragrant flowers, sweet fruits and deep folk songs that will bring you truly unforgettable experiences. Okay.
Going to the West, your whole family will visit many attractive places such as: Cai Rang Floating Market – Can Tho, Tra Su Melaleuca forest – An Giang, Tan Lap floating village – Long An, Tram Chim National Park – Dong Thap , Thoi Son island – Tien Giang… Don't forget to experience "one day as a farmer" with the children with interesting activities such as: building ditches to catch fish, going to monkey bridge, fishing for crocodiles, transplanting rice, slapping buckets. …
In the West, your family also do not forget to enjoy the rustic dishes that are full of humanity such as: grilled snakehead fish, vermicelli, fish sauce hot pot, Nam Vang noodle soup, noodle soup, goby hotpot, snakehead fish braised vegetables, sour soup, bitter vegetables, crazy cotton pancakes!