Hi everyone, I'm back after the food tour in Hai Phong last weekend. Now I'm so excited to write what I did for the food tour and what I felt after my short trip.
Hai Phong is an important port city, an industrial center, a seaport, as well as an economic, cultural, medical, educational, scientific, commercial and technological center of the Northern Coast of Vietnam. Hai Phong is about 119 km from Hanoi.
Few months ago, Hai Phong Department of Culture, Sports and Tourism has released a map for food tour in the city. So there are a lot of young people from the North of Vietnam coming to Hai Phong in the weekend to explore the cuisine here. And I'm one of them haha.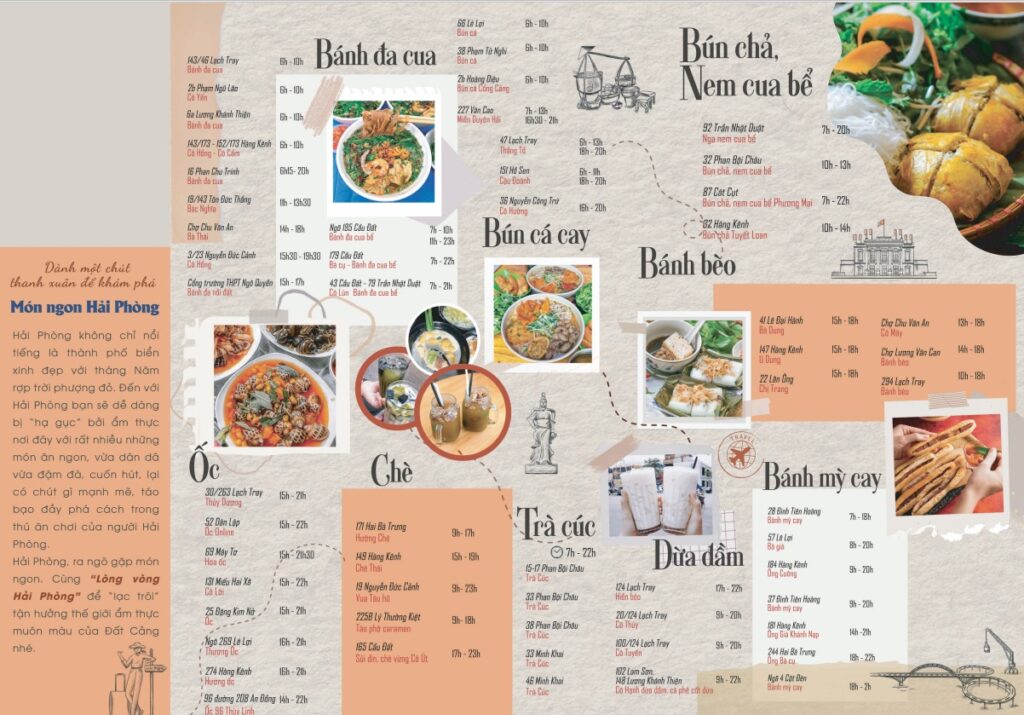 Oops, I've just found out that there's no English in this map. Ok, I'm gonna pick some most popular and delicious food to introduce to you.
Transportation to Hai Phong?
There are many means of transport to Hai Phong, which depends on where you come from.
If you want to come to Hai Phong from the South of Vietnam such as Ho Chi Minh City, you should go by airplane. I also had a post about airlines in Vietnam so you can read here for more information. In case you are from the North of Vietnam, you can go by car, by train or even by riding motorbike.
About me and my friends, we chose to experience the journey by train. It took us 2.5 hours from Hanoi Station to Hai Phong Station. You can by the train tickets offline or online via Vietnamese electronic wallets such as Momo, Vnpay, Zalopay… or via the official website of Vietnam Railways.
Accommodation in Hai Phong?
The most popular way to find accommodation in Vietnam when planning to travel is through Booking.com, Agoda, Traveloka, Luxstay. You can choose one of them.
Through the maps above, we could choose a homestay which is near the center of Hai Phong where has great restaurant.
What to eat in Hai Phong?
Hai Phong City is popular as many delicious dishes. Basically these dishes are available in Hanoi. However, the origin of these dishes is in Hai Phong, so it is usually better to eat in Hai Phong. Below are what we have tried.
Spicy fish vermicelli
It's still a bowl of fish noodles, but the more I eat it, the more I fall in love with the very typical flavor of the Port land.
Hai Phong Cay Spicy Noodles always impresses diners by the sweet and rich flavor of the broth. A bowl of spicy fish vermicelli is especially full and attractive with the cool green color of bamboo vermicelli, the golden color of fried fish and fish balls, the red color of tomatoes and chili peppers creating a delicious bowl of fish noodle soup.
The broth is delicious, a little spicy to stimulate the tongue, each piece of fried fish is crispy, the pork belly is chewy and accompanied by fried perch, each delicious vermicelli is served with raw vegetables such as: water spinach, finely chopped banana flowers. It is really impossible to ignore fish noodles here, right!
Coconut coffee
One of the dishes when visiting Hai Phong that tourists should enjoy is coconut coffee. Hai Phong coconut coffee is completely different from the coffee poured with the same crushed iced coconut milk.
Coffee powder is finely ground with coconut milk and condensed milk so that it blends well, then served with chewy white pearls and crunchy, crunchy grated coconut. This is the perfect choice for those who like coffee but also like the sweetness, right?
Coconut milk coffee in Hai Phong is whisked well, mixed with coconut milk to form a thick mixture. Then, add black jelly topping, pearls, grated fresh coconut and if anyone likes, they can add a little more desiccated coconut.
When put in the mouth, coconut milk coffee is greasy, sweet and has the bitter taste of coffee. The combination of the above flavors makes the drink not boring but also not difficult to drink. Especially, coconut milk coffee is not unpleasantly sweet or has the burning taste of coffee.
Coconut coffee is classified as one of the must-try dishes when coming to the city of red phoenix flowers. A full cup of coconut coffee is sold for 20,000 VND/cup.
Types of snails
Seafood in Hai Phong has basically the same dishes as seafood in other parts of the north, but with a bit more saltiness, especially the diverse types of snails. I also had an article about Vietnamese seafood, you can check it out here.
Below are the types of snails we had in Hai Phong.
Crab and Mantis Shrimp noodle soup
This is actually my most favorite dish in Hai Phong.
The rice noodles is blanched in hot water, put in a large bowl with vegetables and crabs and mantis shrimps… and then filled with water.
A special thing here is that the noodles does not soak up the water quickly, so if you eat it a little slowly, it will still be delicious and not afraid of the noodles being crushed. The broth is very rich in taste, sweet with the taste of crab and fragrant with fried onions.
The price for a bowl of crab and mantis shrimp noodle soup is about 40,000 VND.
That's not all for a food tour in Hai Phong. Don't forget to explore the local market such as Cat Bi, Lach Tray or Luong Van Can to enjoy other specialties of Hai Phong.