Summer is coming in Hanoi, which means that the horribly hot weather is coming. Fortunately, To cope with that hot weather, we have some desserts to help us enjoy the summer more comfortably. Besides the savory dishes I have mentioned in the post of top 5 must-try dishes of Hanoi Cuisine, this post will list the top of Hanoi desserts that we love and I hope that you guys as the foreigners may also love them.
1. Chè – Sweet Soup – Hanoi desserts
Chè is one of the traditional Hanoi desserts. In Hanoi, there are hundreds of types of Chè, which depends on the regions you are staying and it is impossible to complete the list of all types of Chè in Hanoi.
Chè may be made from beans and pulses; or from rice, grains, tubers and cereals; or from jellies; from fruits and plants; or from dumplings.
93 Hang Bac Street is an address that I love to have Chè because the owners are the original Hanoian and the sweet soups here are the type of Chè with the origin from the ancient Hanoi. One of the owners is an old man who may have the same age with my grand father. One time I came to have Chè in here, I had an opportunity to hear him having a presentation about Chè of Hanoi and how to cook it better as well as where to get the materials.
You can choose varieties of Chè.
For Summer: Sweet lotus seed gruel, Sweet banana with coconut gruel, Green/Black beans sweet gruel, Khuc Bach sweet gruel (Khuc Bach is similar to panna cotta), Made from grapefruit oil and slivered rind (my favorite type), Made from corn and tapioca rice pudding…
For Winter: Rice ball sweet soup, Cassava gruel…
2. Sữa chua dẻo – Yogurt Jelly of Hanoi desserts
I'm not good at cooking so I don't know how to make yogurt jelly. As far as I know, Yogurt jelly is made from gelatin. In other countries, you may have creamy yogurt jello which may be one kind of this "sữa chua dẻo".
In Vietnam, we usually eat it with chocolate, matcha or fruits.
I highly recommend my friends trying this yogurt jelly at 80 Hang Non Street.
3. Yogurt with Pandan Jelly – Hanoi dessert
Yogurt is still yogurt. What I like from this food is the pandan jelly which makes a unique taste for me, the smell is really fragrant, sweet and it felt so fresh when putting one big cube of jelly and letting it melt on the tongue.
This type of food can be a combination of yogurt, pandan jelly, black pearl and mixed fruits which are crunchy and juicy.
You can have this dish at 05 Dinh Liet Street. About the price, all of the above dishes are absolutely cheap from 15,000 VND – 30,000 VND (lower than 2 USD).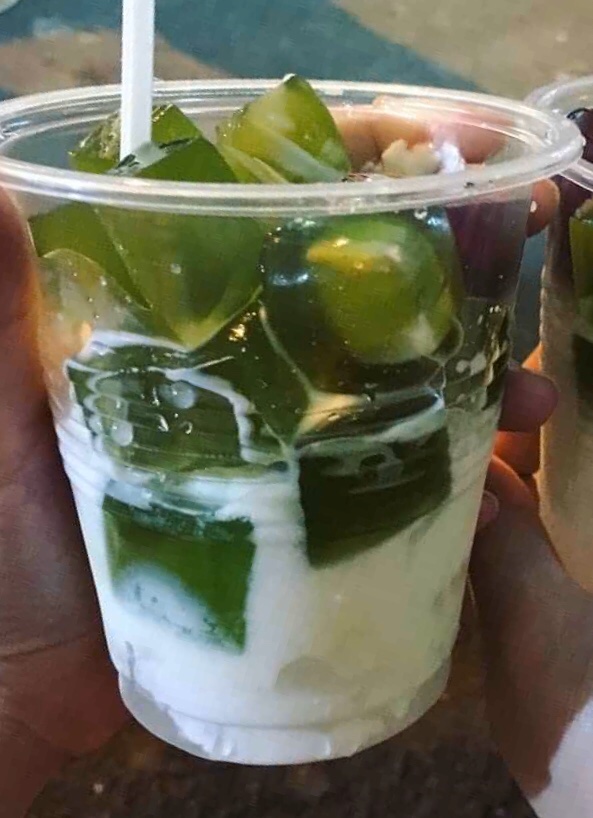 4. Tao pho – Hanoi tofu dessert – street vendors
Tao Pho in Hanoi is often hawked and is often seen in the summer, because it is a "cool, cooling" food. This dish is made from soybeans. It has an ivory white color and a fleshy taste. The smooth piece of Tao pho that melts like jelly (but doesn't form into a firm block like jelly) is one of the most favorite dishes of Vietnamese desserts.
Almost every week, I and my sisters at work usually order something to have for relaxation in a short break after a long time stressful working period. You know, Vietnam is famous for many delightful dishes so choosing which food to enjoy is too difficult for us whenever picking up the phone for ordering via the apps named Delivery Now or Foody (the apps that Vietnamese people use to order the food and the shippers will bring it to you). I hope that you will have more options to choose or to enjoy them all, especially when summer is coming.