Last time I have introduced to you one of the most beautiful mountain places to visit when traveling Vietnam, you can check here. Today, my post will be about beach traveling – places to visit in Quy Nhon.
Quy Nhon is a coastal city in Binh Dinh Province in central Vietnam, the hometown of our great and beloved king – Quang Trung (1753 – 1792). This place is popular as a peaceful land where is somehow quiet but extremely romantic and suitable for those who want a short trip to enjoy the fresh sea breeze and whispering waves in the weekend. And here below is my list of places to visit in Quy Nhon when traveling to Vietnam.
1. Ky Co Beach
One of the must-visit places when traveling to Quy Nhon is Ky Co Beach. If you travel before September, it will be better because you can visit Ky Co by canoe. After September, due to the rough sea, it's impossible to use canoe. The visitors usually rent a car instead but the road for driving to Ky Co is very bad. It takes us nearly an hour (by driving) or 15 minutes (by canoe) and 300,000 VND (12$) for each person to go there (including the price for lunch).
In the last time going to Ky Co, I spent the whole morning and noon at Ky Co and absolutely did not want to leave because of the peace and the freedom I felt when being there. There was one second I thought in my mind that I wanted to stay there forever haha. In Ky Co Beach, I'm pretty sure that any girls loving to take romantic photographs will be satisfied.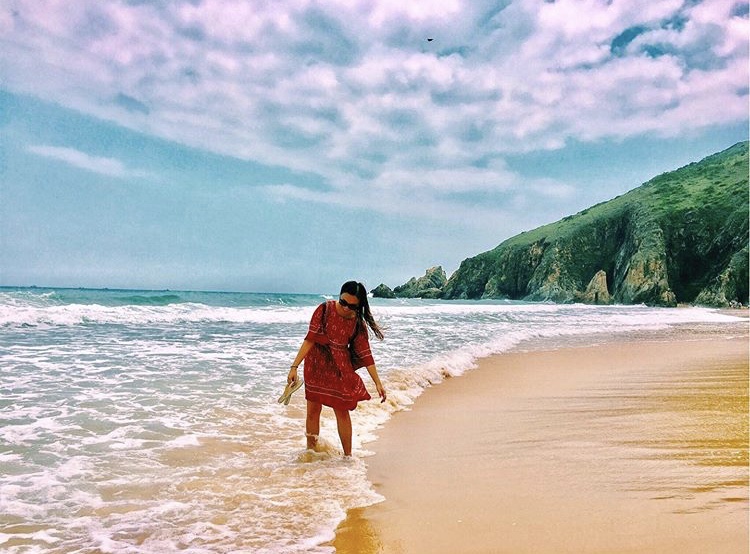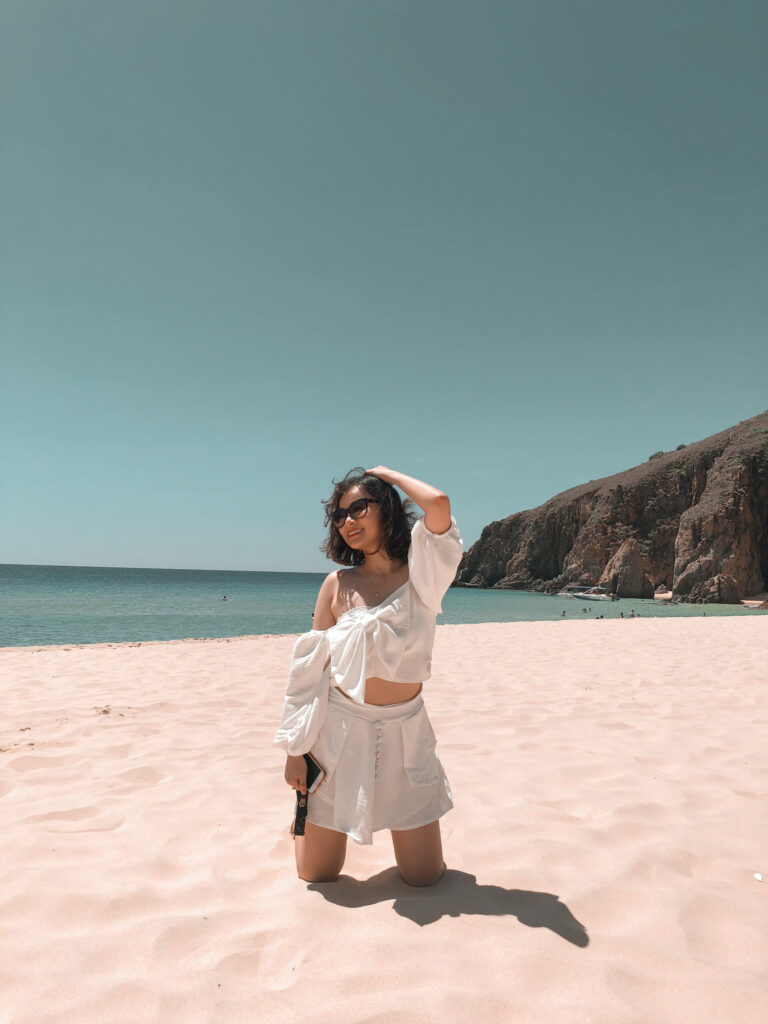 2. Eo Gio Cape
Almost everyone will go to Eo Gio Cape when traveling to Quy Nhon. Normally, after leaving Ky Co, the travelers usually go back to Eo Gio Cape. It's near the location where you caught a canoe or rented a car to go to Ky Co before which you can reach there by walking.
Eo Gio is the name of the turnel which are always windy and covered by 2 blocks of mountain. I was overwhelmed by the majestic beauty here and spent more than three hours just sitting on a cliff looking out the sea and doing nothing else. I asked myself if Eo Gio should be Casterly Rock or Dragonstone with the castle like being in Game of Thrones haha. Finally, Eo Gio should be Eo Gio only, no castle.
However, I think Eo Gio is like Ky Co, which may give you many incredible photos taken.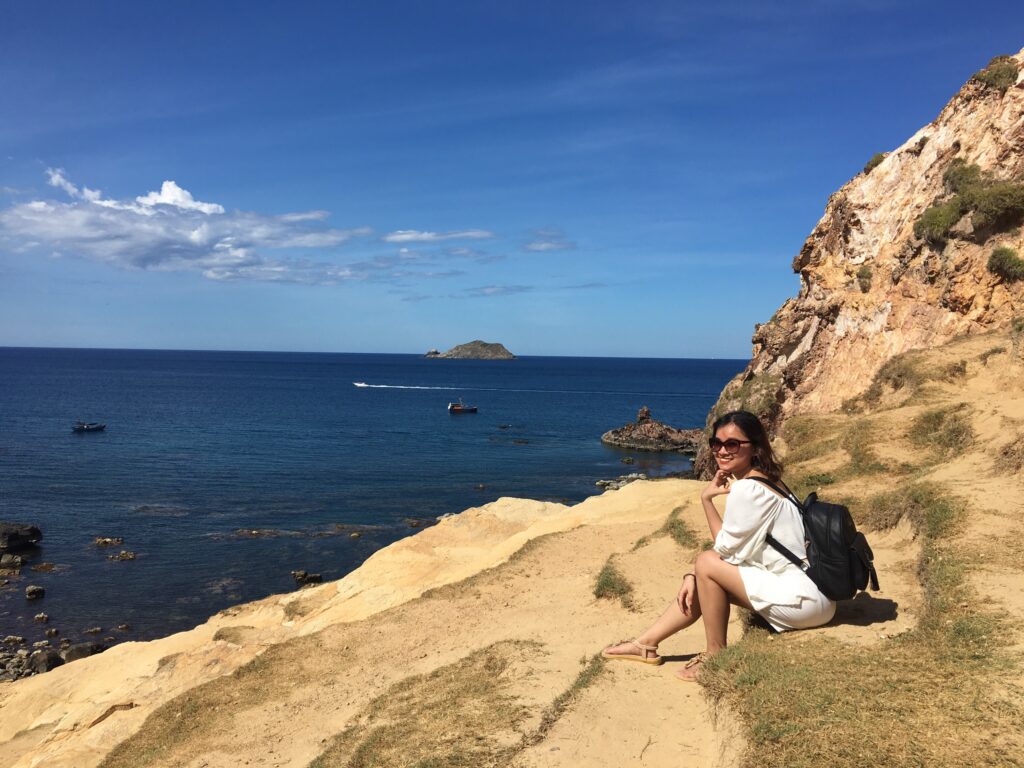 3. Phuong Mai sand dunes
Phuong Mai sand dunes is near the Quy Nhon City. Here is also one of the places I really love, especially in the sunset. If you want to go there, I think it's better to go before the sunset because it will not be too sunny and you can take many photos.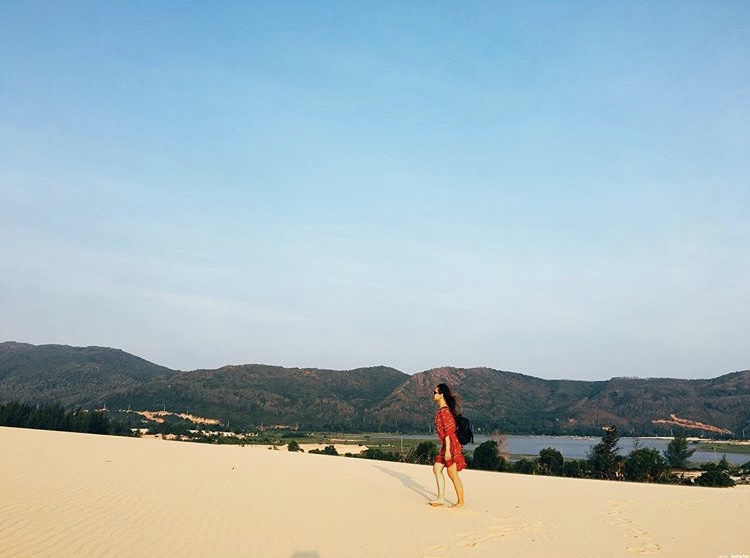 4. Ghenh Da Dia – Phu Yen
Ghenh Da Dia is one of the most beautiful places in Phu Yen, which is about 100km far from Quy Nhon. It is a seashore area of uniformly interlocking basalt rock columns located along the coast.
On the day coming there, I woke up early at 5 am to sit on a motorbike with my friend riding there. If you love riding motorbike, you can ask the hotel receptionist where to have a renting motorbike service.
It was the first time in my life that I had a travel trip by motorbike. I had been scared and worried during being on the whole way. But I could not deny that sightseeing while riding motorbike was much more unpredictable and grateful than sightseeing from a car.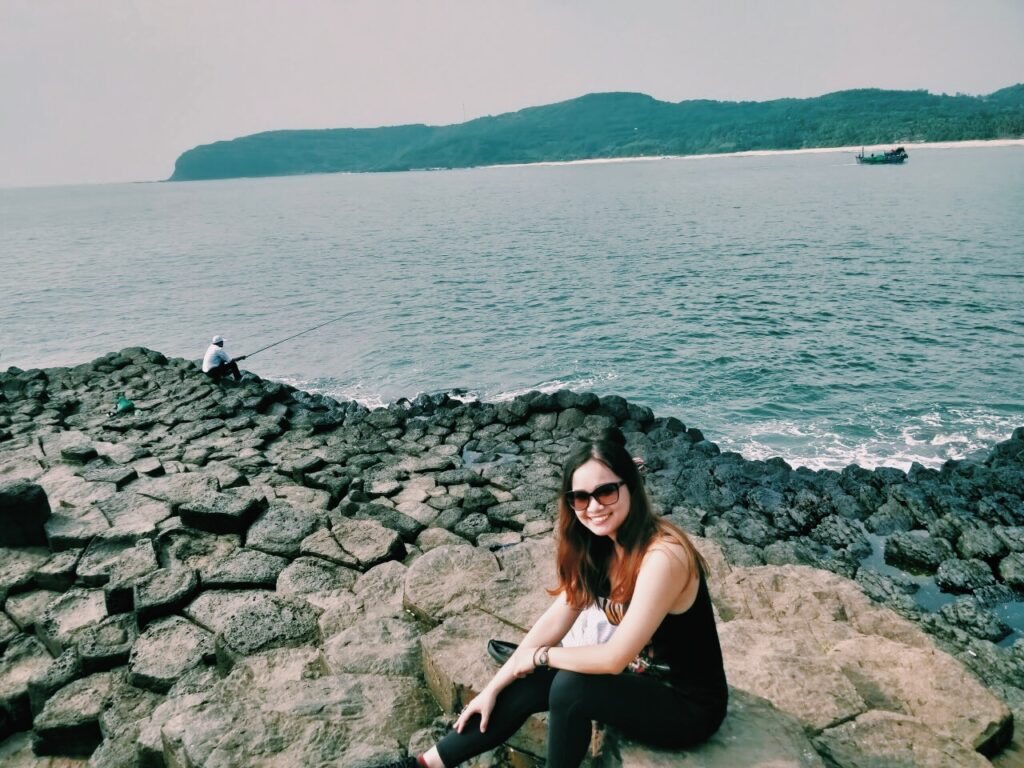 5. The filming location of "Yellow Flowers on the Green Grass"
Phu Yen is wonderful and famous for the place that the movie "Yellow Flowers on the Green Grass" was mostly filmed at. The movie was adapted from the novel of the same name by Nguyen Nhat Anh. He is the author of the novels associated with most of the young Vietnamese generation. That is one of the reason why people traveling to Quy Nhon usually want to spend time visiting Phu Yen, especially the filming location.
Although there was no yellow flower or green grass in the two times coming there of mine, there was cactus which help making good photos.
Above are my top 5 places to visit in Quy Nhon and Phu Yen. I hope one day you may come to Vietnam for traveling and enjoy the journey with the places I have recommended.
Bonus: If you love watching video, I also have a video recoding my time traveling to Quy Nhon and Phu Yen. You can check it here.