It's been a year I have not traveled anywhere because of the pandemic explosion everywhere in Vietnam. Today I think I need to remind myself of the journey to the Northern Vietnam besides Moc Chau: Ha Giang loop tour. And yeah traveling to Ha Giang will be my first post of this blog.
Ha Giang is in the Northeast region of Vietnam sharing a 270 km long border with Yunnan province of southern China, and thus is known as Vietnam's final frontier.
I traveled here one year ago and I have been surprised by the beauty of Ha Giang until now. I was originally a person who only likes to go to the beach, not to the mountains. But this is the first time in my life that I really love traveling in the mountains because the mountains in Ha Giang are really the most majestic in Vietnam.
Vehicles: 16-seat Ford Transit cars with driver. Please note that the road in Ha Giang is very dangerous because the road is very winding with many bends, one side is a cliff, the other side is a deep abyss. That's the reason why everyone should go with small car or a 16-seat car or use motor. Please don't use big cars like 29-seat or 35-seat car.
I traveled with my family and friends with 25 people. We had a leader who put in a schedule and all we had to do was just to follow that schedule.
Ha Giang loop tour in Day 1: The lonely tree and the couple mountains 
I remember we started the journey very soon at 5:30 am from Hanoi. It took about 7 hours to reach Ha Giang City where we had lunch in about 2 hours. From about 14h30 to 17h15, we were on the way to the homestay. While being on the way, we stopped at some places that the car driver told us that it would be a waste if we had not stopped and taken some photos.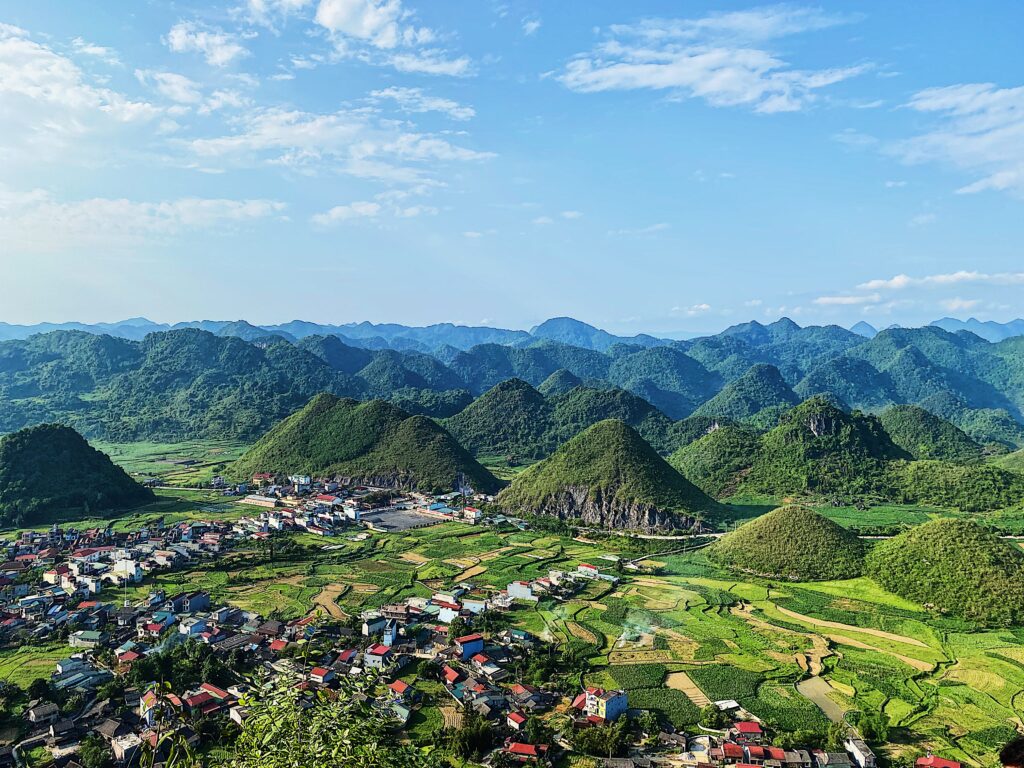 The homestay for our first day was Ha Anh homestay in Yen Minh town. At about 19h00, we had dinner at Phuc Cai restaurant. I remember that because this time was the holiday in Vietnam so we did not have any other choices but Ha Anh homestay haha.
Ha Giang loop tour in Day 2: The Hanh Phuc Road, Ma Pi Leng and Nho Que River
The Hanh Phuc Road:
Early morning from 6:00 to 7:00 am, we checked out and had breakfast. After that, we went to the memorial stele on Hanh Phuc Road – Meo Vac town.
Why was the road named "Hanh Phuc"? "Hanh Phuc" in Vietnamese means "Happiness". That is a road of 185km long, under construction for six years, 14 young volunteers were left on the gray stone shutters, and in return, the new life and happiness of the people living in Ha Giang. The road was constructed 56 years ago when my country was in many difficulties. So without the previous generation, we can not have the happy time today to live in peace and to travel everywhere we want. That's the reason why I say the further I go, the more I am grateful for the previous generation and the more I love my country. And I always tell myself to try really hard to work and study to contribute to the country, not to disappoint those who have fallen for the cause of building and defending the country.
Ma Pi Leng:
According to the plan, from 9:00 to 9:30 am, we went to the top of Ma Pi Leng pass, and took photos for 1 hour. Ma Pi Leng is one of the most famous places to visit when traveling Ha Giang. From the top of Ma Pi Leng, we can see the whole Nho Que River, which is incredible. It will be a waste if coming to Ha Giang without taking some shots here.
Nho Que River:
At about 10.30am, we arrived at Nho Que river boat dock. There are 2 ways to come from Tham Ma Pass to the river bank: taking a motorbike taxi up and down the wharf or walking on foot. Two different ways will be by two different roads. If you want to have experience like climbing up and down the mountain, you can choose walking. If you want to experience the feeling with motorbike, you can hire a motor rider to take you down there or hire a motorbike and ride by yourself. However, I suggest hiring a motor rider for safety because the road using motorbike is too dangerous with the width of the path probably less than 2 meters (I guess), and still a cliff on one side, an abyss on the other side.
Here is a video I found on Youtube showing exactly how to go to Nho Que River by riding motorbike:
After that, we took a boat on Nho Que river – Tu San canyon for 2 hours. You can go back to the boat to swim or rent a kayak to row on the river to take photos.
At noon, we went back to Dong Van town to have lunch and after that, we came to Lung Cu flagpole, climb the flagpole – the northernmost point of Vietnam. And there we ended the second day.
Ha Giang loop tour in Day 3: Lo Lo Chai Village, Dong Van Plateau and Tham Ma Path
After a night having rest in Lung Cu homestay- Lo Lo Chai Village, from 6:00 to 7:00am on the following day, we wandered around the Village and enjoyed the peace here. Below is my view from the homestay. As you can see, the highest flag is the Lung Cu flagpole which is marking the Northernmost point of Vietnam.
From 7h00 to 8h00, we went to visit Meo King Palace. King Meo is how we call a very rich man who is Meo – Meo (H'mong) is one of the ethnic minorities in Vietnam. He lived in the 20th century and was one of the riches man in Ha Giang at that time. His palace was the combination of French, Hmong and Chinese architecture.
After leaving Meo King Palace, we visited Dong Van Plateau and Tham Ma Path. About 80% of the area of the Dong Van Plateau is covered by limestone. Tham Ma Path is also beautiful and I think It was also a waste if we don't stop and take a photograph there.
Day 4: It's time to leave Ha Giang.
Here is some contacts for :
– Ha Anh homestay – Yen Minh town : Nguyen Thi Anh : 0362361985
– Phuc Cai Restaurant – th.tr Yen Minh : Van : 0359294448 – 0812764448
– Bien Rung Restaurant – th.tr Yen Minh : An Huyen : 0983471975
– Lung Cu homestay – Lo Lo Chai – Lung Cu: Vang Di Ba : 0974293151 – 0866595518
– Bao Trang hotel – Ha Giang city: Ninh Thuy Duong: 0968180119 – 02193824852
About Ta Lang wharf – Nho Que river bank:
+ Hai Yen houseboat – boat owner is Ms. Hoa 0865818268
+ The rental price here is 100,000 VND (about 5$) for each person. The boat house also rents out costumes at the marina for 50,000 VND (about 2$) for each set with Hmong skirt or boho skirt to take photographs while being on boat.
Yeah That's all. I hope you will have good time traveling Ha Giang – Vietnam.
I also write in Vietnamese to express my feeling about Ha Giang in another blog. If you want to read something in Vietnamese, don't hesitate to follow it.